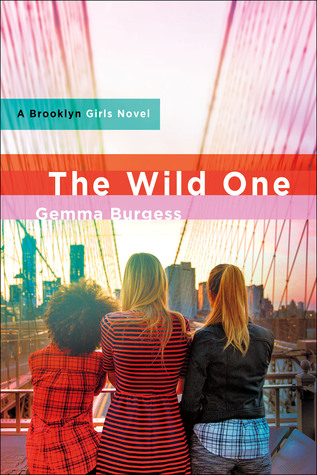 Author: Gemma Burgess
Publication Date: November 10, 2015
Publisher: St. Martin's Griffin
Series: Brooklyn Girls # 3
Sweet, innocent Coco has always been the good one. But when she catches her boyfriend cheating on her, she decides it's time to break bad.
Coco swiftly goes from spending all her time baking and reading to working nights in (and dancing on) a bar, falling in and out of love (and lust), stealing education - and along the way discovers that she is stronger than she ever knew… In a time when her best friends are suddenly plunged into break ups, break-downs, big breaks, and on the verging of quitting New York City altogether, it's up to Coco to keep them together and find herself along the way.
Gemma Burgess'

The Wild One: A Brooklyn Girls Novel

is the inspiring story about the turmoil, uncertainty, and heartache that every twenty something faces and survives - with the help of her friends.
As you might expect from a group of twenty-something girls, we spend the early part of the evening on an extended makeover session in Angie's room, with alcohol.
Pia reaches out, takes Angie's martini, and tips all of it back into her mouth. She hands back the empty glass and smiles. "Okay, ladybitches. Let's have some fun."
So from now on, I don't want to be the good one. I'll be the wild one.
Brooklyn Girls has been such an entertaining series to read, especially for a girl in my twenties trying to figure out life one step at a time. In Gemma's stories not everyone has life all figured out; her characters struggle with love, jobs, friends, and just life in general. They are not perfect, but readers can revel in their flaws and will even find themselves connecting with one or more of the characters. If you know the series, then you know that each book follows one girl out of a group of best friends. The third installment follows Coco and her desire to find what makes her truly happy. Early on in the story Coco's life takes a few dreaded turns and she is left feeling unhappy and unsure of what her future holds. It is then that Coco decides to start acting out; she is done being the "quiet" one, the "nice" one, the "shy" one, so she decides it is about time for her to be the "wild" one!
These books have been so relatable and I cannot believe that the series is finished. I was hoping that Burgess would write a story for each of the girls; there are five in total, and I am still holding out and hoping that she will. In some way, shape, or form I guarantee that all readers will be able to relate with at least one of the characters. Their struggles are part of the everyday, their relationships are not always perfect, and they constantly question their decisions. In each story we get to see all of the characters and learn how they have progressed since the last time we have seen them. Their dialogue is always very comical and realistic; I will probably find myself going back to this series very soon!
***A free copy of this book was provided to me by the publishers at St. Martin's Griffin in exchange for my honest review***