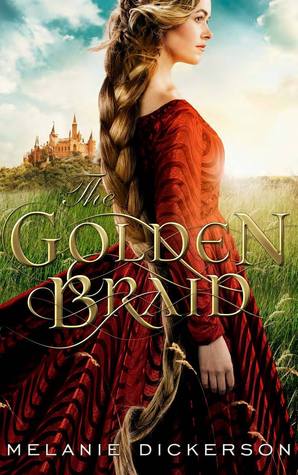 Author: Melanie Dickerson
Publication Date: November 17, 2015
Publisher: Thomas Nelson
The one who needs rescuing isn't always the one in the tower.

Rapunzel can throw a knife better than any man around. And her skills as an artist rival those of any artist she's met. But for a woman in medieval times, the one skill she most desires is the hardest one to obtain: the ability to read.

After yet another young man asks for Rapunzel's hand in marriage, Mother decides they need to move once again, but this time to a larger city. Rapunzel's heart soars—surely there she can fulfill her dream. But Mother won't let her close to a man. She claims that no man can be trusted.

After being rescued by a knight on the road to the city, and in turn rescuing him farther down the road, Rapunzel's opportunity arrives at last. This knight, Sir Gerek, agrees to educate Rapunzel in order to pay back his debt. She just has to put up with his arrogant nature and single-minded focus on riches and prestige.

But this Rapunzel story is unlike any other and the mystery that she uncovers will change everything—except her happily ever after.
"When she had sung for several minutes, she stopped and whispered, "I will never sing for Mother again, but I will sing to you, God, as long as I have hope."
Mother just didn't understand what it was like to be young and to want to do things, to learn things, to meet new people. Mother was content only to speak with Rapunzel, to be always with her.
Was she a bad person because she so enjoyed teasing this knight? Bad or not, she did enjoy it.
Fans of fairy tale retellings will love getting lost in this new rendition of Rapunzel. I have been following Melanie Dickerson's retellings ever since I started my book blog. Dickerson's story puts its own twist on a much loved story; her retellings are some of the best and I would highly recommend them to all. In this retelling of Rapunzel, we see Mother Gothel being overprotective, possessive as always. She moves Rapunzel from town to town and gets extremely irritated when the local village boys pay extra attention to Rapunzel. When they get close enough to propose, Mother Gothel knows it is time to go. Rapunzel is a character that goes with the flow, is courageous, and curious. This story takes more of a historical fiction route than a fantastical one, but the characters were so fun-loving and the romance was sweet and not too overwhelming.
Rapunzel and Gerek make an outstanding couple and really complement each other on their journey. Rapunzel is warm-hearted and highly spirited, while Gerek is stand offish at first, surly, and a bit moody. Together they grow and build off of each other's strengths. Mother Gothel was a hard read for me simply because I could not tell if she was the antagonist, like she is in other versions, or if she really intended to protect Rapunzel and keep her safe. Either way, she was beautifully written and added to the angst between Gerek and Rapunzel. The romance in this story did not outdo the action, adventure, and actual plot. I can always appreciate this greatly in a book!
***A free copy of this book was provided to me by the publishers at Thomas Nelson in exchange for my honest review***