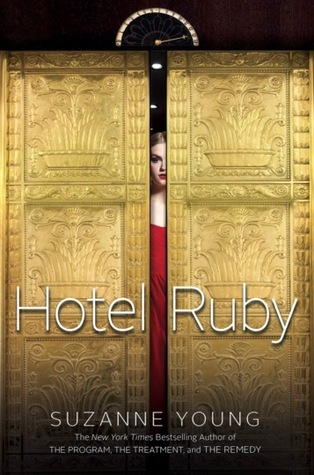 Author: Suzanne Young
Publication Date: November 3, 2015
Publisher: Simon Pulse
Stay Tonight. Stay Forever.


When Audrey Casella arrives for an unplanned stay at the grand Hotel Ruby, she's grateful for the detour. Just months after their mother's death, Audrey and her brother, Daniel, are on their way to live with their grandmother, dumped on the doorstep of a DNA-matched stranger because their father is drowning in his grief.

Audrey and her family only plan to stay the night, but life in the Ruby can be intoxicating, extending their stay as it provides endless distractions—including handsome guest Elias Lange, who sends Audrey's pulse racing. However, the hotel proves to be as strange as it is beautiful. Nightly fancy affairs in the ballroom are invitation only, and Audrey seems to be the one guest who doesn't have an invite. Instead, she joins the hotel staff on the rooftop, catching whispers about the hotel's dark past.

The more Audrey learns about the new people she's met, the more her curiosity grows. She's torn in different directions—the pull of her past with its overwhelming loss, the promise of a future that holds little joy, and an in-between life in a place that is so much more than it seems…

Welcome to the Ruby.
"Stay tonight. Stay forever" is typed in black on the side.
"And hon," the cashier calls. I turn back to look at her, and she smiles. "Welcome to the Ruby."
"It's too soon for me to kiss you. I haven't charmed you nearly enough."
I usually stay away from horror books, and for good reason; they creep me out and keep me up at night. I didn't really know what to make of this book when I first started reading it. I just knew that the story was interesting and I couldn't resist turning the pages. I started out unsure of where the characters and story line were taking me, but quickly enough I wondered into a world of mystery and intrigue. This book has its faults, but it also has its redemption; it is twisted and takes many turns that, as the reader, you will never see coming. The best part of the story is that the Hotel Ruby is not even supposed to be the final destination for our main characters, but just like them you will find yourself trapped, or should I say mystified, by your surroundings. Welcome to the Ruby.
The setting, Hotel Ruby, was the best part of this novel. I felt like with all the mysterious and unexplained events, the hotel was its own character. I was completely caught up in this place that somehow had "trapped" the characters. Audrey, our leading lady, is just the perfect type of character to take us through a place like Hotel Ruby. She is curious, likeable, a bit jaded, and makes it clear that she trusts no one, so when she starts getting rather quickly attached to the people she meets at Hotel Ruby, readers know something is amiss. I guessed the huge twist pretty early on, but I was still glued to the pages just to make sure I did not miss anything else. Side note, there is a pretty steamy romance in this book; I do not always appreciate romance books, but Suzanne Young writes with such tact and really knows her way around a hot, passionate kiss!
***A free copy of this book was provided to me by the publishers at Simon Pulse in exchange for my honest review***