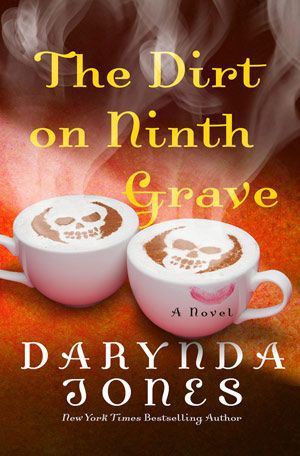 Author: Darynda Jones
Publication Date: January 12, 2016
Publisher: St. Martin's Press
Series: Charley Davidson # 9
In a small village in New York lives Jane Doe, a girl with no memory of who she is or where she came from. So when she is working at a diner and slowly begins to realize she can see dead people, she's more than a little taken aback. Stranger still are the people entering her life. They seem to know things about her. Things they hide with lies and half-truths. Soon, she senses something far darker. A force that wants to cause her harm, she is sure of it. Her saving grace comes in the form of a new friend she feels she can confide in and the fry cook, a devastatingly handsome man whose smile is breathtaking and touch is scalding. He stays close, and she almost feels safe with him around.
But no one can outrun their past, and the more lies that swirl around her—even from her new and trusted friends—the more disoriented she becomes, until she is confronted by a man who claims to have been sent to kill her. Sent by the darkest force in the universe. A force that absolutely will not stop until she is dead. Thankfully, she has a Rottweiler. But that doesn't help in her quest to find her identity and recover what she's lost. That will take all her courage and a touch of the power she feels flowing like electricity through her veins. She almost feels sorry for him. The devil in blue jeans. The disarming fry cook who lies with every breath he takes. She will get to the bottom of what he knows if it kills her. Or him. Either way.
"A lot of people are alive because I shed too much hair to get away with murder."
"Crazy chicks are usually pretty tough."
"He was like a panther in the wild. Beautiful to look at. Far too dangerous to approach."
"Men were weird. Especially men made of tempered steel and fire and perpetual darkness. Or men with penises. Either way."
This series has long been one of my favorite urban paranormal series to read and follow. The ninth book in this long tale is much more mellow than the rest have been, mainly because of the events that transpired in the eighth book. In short, Charley now has amnesia and is known as Janey Doerr. Charley, or should I say Janey, is working hard to get her memory back and all the lovable secondary characters that we know and love work hard to help her without forcing her to remember. Charley has taken a job as a waitress at a local diner and her friends are "regulars" that frequent the bar hoping she will catch on. At first I did not know how I would feel about this story, but it turned out to be really refreshing to see Charley rediscover her gifts and the people who have known and loved her for so long.
Darynda Jones can make any story enjoyable. The dialogue is witty. Charley is still as sarcastic as ever. And, of course, Reyes is still as dark and handsome. Cookie is still Charley's ride or die sidekick who is ready for everything and anything. Some things never change. Of course, some things are a bit different in this book and because of recent events, Jones was forced to slow down the pace and really write from a different point of view really. Charley is forced to solve crimes on her own and it was nice, in a sense, to see Charley do this alone. The tenth installment will be released later this year and I am very anxious to see where Jones is taking the story from here. Regardless of where she goes, I will always be a fan!
***A free copy of this book was provided to me by the publishers at St. Martin's Press in exchange for my honest review***