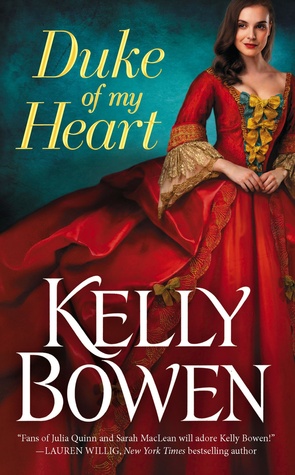 Author: Kelly Bowen
Publication Date: January 26, 2016
Series: Season For Scandal # 1
Scandal can be handled...
Captain Maximus Harcourt, the unconventional tenth Duke of Alderidge, can deal with tropical storms, raging seas, and the fiercest of pirates. But he's returned home from his latest voyage to find a naked earl—quite inconveniently deceased—tied to his missing sister's bed. And he has only one place to turn. Now he's at the mercy of the captivating Miss Ivory Moore of Chegarre & Associates, known throughout London for smoothing over the most dire of scandals.
Miss Moore treats the crisis as though it were no more serious than a cup of spilt tea on an expensive rug. As though this sort of thing happened on the job every day. Max has never in all his life met a woman with such nerve. Her dark eyes are too wide, her mouth is too full, her cheekbones too sharp. Yet together, she's somehow...flawless. It's just like his love for her, imperfect, unexpected—yet absolutely true.
"I'm trusting you, Miss Moore." He dropped her hand. "Don't make me regret it."
Ivory left her study, locking the door behind her. One could never be too careful with secrets.
The silk was the color of sin. Wrapped around the limbs of a dead earl, however, it was a problem.
This new series is going to be such a treat! I knew I was going to love this book right from the start, when I walked into a room with a corpse left tied to the bed and a young women trying to hide the body. Miss Ivory Moore works for a company called Chegarre & Associates. They are a group of individuals that the ritzy, hoity people of the ton call on when they have a situation on their hands that they are not able to "get rid of" on their own. Ivory is working to get rid of a dead body that was found tied to a bed, while a young unwed girl has runaway and may be the only one who knows what truly happened. It is in the midst of all of this that Captain Maximus Harcourt, the brother to the young girl who has taken a sudden departure, walks in and finds some of his family members as well as Miss Moore trying to dispose of a dead body and keep the house full of guests unaware. The tension between Ivory and Max is apparent right from the start!
The romance is exciting and steamy, the idea of Chegarre & Associates is fascinating, and Ivory is a fabulous heroine. Ivory defies everything that a woman in this time should be; she is not phased at all by this brusque, arrogant Captain who demands that she leave at once. Not only will readers enjoy a wonderful romance, but they will also get the taste of a fun and unpredictable murder mystery. Readers are left wondering where Beatrice, Max's sister, got off to while waiting to see what happens romantically between Ivory and Max. I am beyond excited to see where this series will go next. I have already been checking Goodreads, anxiously waiting for the next book update!
***A free copy of this book was provided to me by the publishers at Forever in exchange for my honest review***