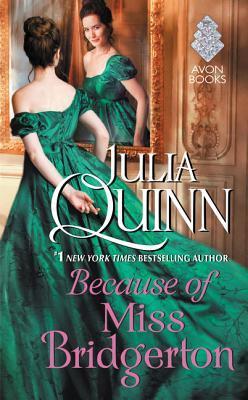 Author: Julia Quinn
Publication Date: March 29, 2016
Sometimes you find love in the most unexpected of places...
This is not one of those times.
Everyone expects Billie Bridgerton to marry one of the Rokesby brothers. The two families have been neighbors for centuries, and as a child the tomboyish Billie ran wild with Edward and Andrew. Either one would make a perfect husband... someday.
Sometimes you fall in love with exactly the person you think you should...
There is only one Rokesby Billie absolutely cannot tolerate, and that is George. He may be the eldest and heir to the earldom, but he's arrogant, annoying, and she's absolutely certain he detests her. Which is perfectly convenient, as she can't stand the sight of him, either.
But sometimes fate has a wicked sense of humor...
Because when Billie and George are quite literally thrown together, a whole new sort of sparks begins to fly. And when these lifelong adversaries finally kiss, they just might discover that the one person they can't abide is the one person they can't live without...
Billie finished the horrifying sentence. "You'd have to marry me."
It wasn't that Billie Bridgerton was lacking in common sense. On the contrary, she was quite sure that she was one of the most sensible people of her acquaintance.
But she was a woman. She could never understand what it meant to fight for king and country.
Oh how I love the Bridgertons! And I am so glad that Julia Quinn has brought them back in this brand new series. This is a prequel to the Bridgerton series that is eight books long. I can easily say that this will be a highly enjoyable read for any Bridgerton fan. Readers will love the story shared by George and Billie, both characters that have been introduced before. Billie is not your typical heroine, but isn't that so typical of Julia Quinn's writing? Billie is a bit of a tomboy and not your average lady. Billie has taken over a lot aspects of running her family's estate. Billie was a loveable character, and her sassy personality made me love her all the more!
Our male protagonist is George Rokesby, the eldest of the Rokesby brothers. George has a heart of gold and I loved him right from the start. Right from the beginning I was rooting for him and Billie to end up together. The dialogue shared between George and Billie was my favorite part of the book. It was so easy to fall in love with these characters, as it is with any of Ms. Quinn's loveable creations. There is a mix of humor, romance, and passion that made this book a quick, easy read.
***A free copy of this book was provided to me by the publishers at Avon books in exchange for my honest review***