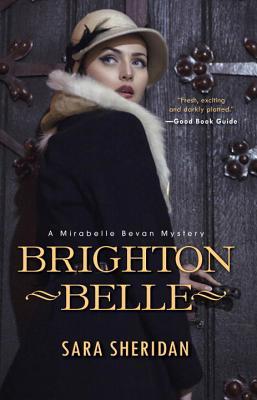 Author: Sara Sheridan
Publication Date: March 29, 2016
Series: Mirabelle Bevan Mystery # 1
In post-World War II England, former Secret Service operative Mirabelle Bevan becomes embroiled in a new kind of intrigue…
1951: In the popular seaside town of Brighton, it's time for Mirabelle Bevan to move beyond her tumultuous wartime years and start anew. Accepting a job at a debt collection agency seems a step toward a more tranquil life.
But as she follows up on a routine loan to Romana Laszlo, a pregnant Hungarian refugee who's recently come off the train from London, Mirabelle's instincts for spotting deception are stirred when the woman is reported dead, along with her unborn child.
After encountering a social-climbing doctor with a sudden influx of wealth and Romana's sister, who seems far from bereaved and doesn't sound Hungarian, Mirabelle decides to dig deeper into the suspicious circumstances surrounding the death. Aided by her feisty sidekick--a fellow office worker named Vesta Churchill ("no relation to Winston," as she explains)--Mirabelle unravels a web of evil that stretches from the Brighton beachfront to the darkest corners of Europe. Putting her own life at risk, she must navigate a lethal labyrinth of lies and danger to expose the truth.
"Everyone was important during the war. Everyone. We worked together and we won."
"People are so different in wartime. No one gets to be ordinary. Not really."
"Most fellas like the races, though, Miss. It's only human nature."
"The sky was a sparkling succession of black diamonds on black velvet made crystal clear by the blackout."
I am so glad that I requested a copy of this book for review. I was immediately taken with Mirabelle's character and the way she told the story. Mirabelle clues readers in to her past pretty early on. We learn that she is mourning her lover and has just retired from her wartime job, since the book is set post WWII. Mirabelle's life seems so plain and ordinary until the day a gentleman by the name of Bert Jennings walks in and delivers our mystery. Immediately after hearing his report, she feels she must investigate this story and she quickly gets herself involved pretty deep in what appears to be a murder of convenience. Mirabelle soon enlists the help of a woman named Vesta Churchill and together they go about trying to crack the case.
There is no way I could have predicted the ending of this book or the culprit of the crime. The list of victims was very long and I had to reread certain parts of the book to make sure I hadn't missed anything. The time period is also one of my favorite time periods to read about. Sheridan writes the post WWII scene very vividly and portrays the time exactly how I imagine it would have been. The dialogue, the lack and food and resources, and of course the deteriorated streets and buildings. This book was easy to read and took me no time at all to finish. Now I just have to wait for Kensington to publish more of them!
***A free copy of this book was provided to me by the publishers at Kensington in exchange for my honest review***