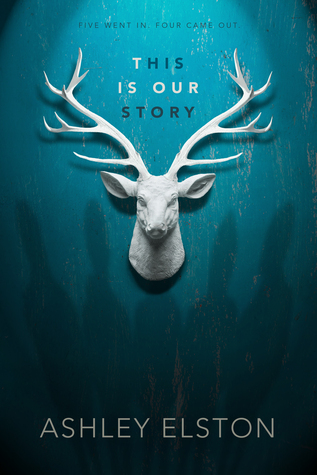 Author: Ashley Elston
Publication Date: November 15, 2016
Publisher: Disney-Hyperion
Five went in. Four came out.
No one knows what happened that morning at River Point. Five boys went hunting. Four came back. The boys won't say who fired the shot that killed their friend; the evidence shows it could have been any one of them.
Kate Marino's senior year internship at the district attorney's office isn't exactly glamorous—more like an excuse to leave school early that looks good on college applications. Then the DA hands her boss, Mr. Stone, the biggest case her small town of Belle Terre has ever seen. The River Point Boys are all anyone can talk about. Despite their damning toxicology reports the morning of the accident, the DA wants the boys' case swept under the rug. He owes his political office to their powerful families.
Kate won't let that happen. Digging up secrets without revealing her own is a dangerous line to walk; Kate has her own reasons for seeking justice for Grant. As investigates with Stone, the aging prosecutor relying on Kate to see and hear what he cannot, she realizes that nothing about the case—or the boys—is what it seems. Grant wasn't who she thought he was, and neither is Stone's prime suspect. As Kate gets dangerously close to the truth, it becomes clear that the early morning accident might not have been an accident at all—and if Kate doesn't uncover the true killer, more than one life could be on the line…including her own.
When the new district attorney asked for my statement when I pleaded guilty…this was my story.
We all look at each other, each of us trying to figure out who it is. Only one of us knows the truth. And I'm going to make sure it stays that way.
The four of us sit on the couch, side by side, as a united front.
I saw this book on Goodreads about a month ago and I just kind of scrolled by it and didn't really pay it any attention until I saw a booktuber on YouTube that I absolutely love and she was raving about it. After that, I checked out the synopsis and lo and behold I was hooked. I stayed up really late to finish this book because once the mystery was put out there I had to know the outcome. The storyline is original and I had no clue who committed the murder even up to the very end. The front of the book says it all: Five went in. Four came out. The murder mystery surrounds a hunting accident that is soon determined to be murder. Five boys go out hunting after a night of drinking and drugs and only four make it out of the woods alive. I was HOOKED!
The main character, Kate, was my favorite part about this book. She is working on the River Point case as part of an internship and gets in way over her head. The entire book was told from her perspective, other than a few tidbits after each chapter that is written from the perspective of one of the River Point boys, assumedly the killer. You don't find out until the end just whose thoughts you have been reading, but it is so dark and creepy because it feels as if the boy writing has no remorse at all. Kate is a strong-willed young adult who wants justice for the victim and wants the killer to get what he deserves. I loved her character and thought she was really well developed. I will be checking out more from this author.