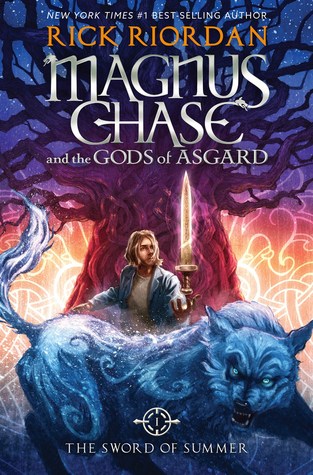 Author: Rick Riordan
Publication Date: October 6, 2015
Publisher: Disney-Hyperion Books
Series: Magnus Chase and the Gods of Asgard # 1
Magnus Chase has always been a troubled kid. Since his mother's mysterious death, he's lived alone on the streets of Boston, surviving by his wits, keeping one step ahead of the police and the truant officers.
One day, he's tracked down by a man he's never met—a man his mother claimed was dangerous. The man tells him an impossible secret: Magnus is the son of a Norse god.
The Viking myths are true. The gods of Asgard are preparing for war. Trolls, giants and worse monsters are stirring for doomsday. To prevent Ragnarok, Magnus must search the Nine Worlds for a weapon that has been lost for thousands of years.
When an attack by fire giants forces him to choose between his own safety and the lives of hundreds of innocents, Magnus makes a fatal decision.
Sometimes, the only way to start a new life is to die . . .
"My name is Magnus Chase. I'm sixteen years old. This is the story of how my life went downhill after I got myself killed."
"The thing about fate, Magnus: even if we can't change the big picture, our choices can alter the details. That's how we rebel against destiny, how we make our mark. What will you choose to do?"
"Somebody once told me that a hero's bravery has to be unplanned - a genuine response to a crisis. It has to come from the heart, without any thought of reward."
"Blades before babes, you know what I'm saying?"
Might I say that I can see myself potentially liking this series more than the Percy Jackson series? Would you be upset with me? Well, at any rate, it's true. I was so involved in Magnus's story and even at 499 pages, I flew the book and can't wait to start book two. If you know anything at all about Rick Riordan, then you know how fascinated he is with Greek, Egyptian, and Norse mythology. Going into this book, I knew absolutely nothing about Norse mythology, and I pleased to say that after reading this book I have really learned a lot. While I read, I had Google sitting ready to go on my laptop and every time a new character was introduced, I started researching. It really made for a unique and enjoyable reading experience.
Magnus Chase is such a well-written character. He learns early on that he is the son of a Norse God, and just like with Percy Jackson, the adventure ensues from there. His voice had so much spunk and spark. I am not one that usually laughs out loud when reading a book, but with his voice I just could not help it. Plus his interactions and dialogue with other characters makes him seem all the more witty and charming. The book is filled with an array of lively characters, both large and small. And yes, we do get spotlights from Loki, Thor, and the All-Father himself, Odin. One of my favorite characters was Blitzen, who serves as Magnus's sidekick and is there to offer guidance and help him figure out his role in this new world. I loved the way the book ended and I can't wait to read more about Magnus Chase and all that he gets himself into.