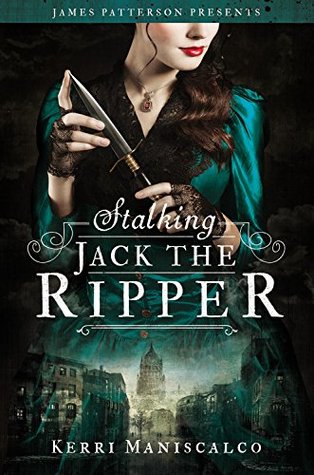 Author: Kerri Maniscalco
Publication Date: September 20, 2016
Publisher: Jimmy Patterson Books
Series: Stalking Jack The Ripper # 1
Seventeen-year-old Audrey Rose Wadsworth was born a lord's daughter, with a life of wealth and privilege stretched out before her. But between the social teas and silk dress fittings, she leads a forbidden secret life.
Against her stern father's wishes and society's expectations, Audrey often slips away to her uncle's laboratory to study the gruesome practice of forensic medicine. When her work on a string of savagely killed corpses drags Audrey into the investigation of a serial murderer, her search for answers brings her close to her own sheltered world.
"Roses have both petals and thorns, my dark flower. You needn't believe something weak because it appears delicate. Show the world your bravery."
"Fear is a hungry beast. The more you feed it, the more it grows."
"There's nothing better than a little danger dashed with some romance."
"It was a great night for hunting Jack the Ripper."
I have never been a huge fan of Jack the Ripper. I really hate stories where women are brutally murdered; however, I must say that this book was written exceptionally well. I am so intrigued after finishing this book that I believe I am going to find myself reading and researching more about Jack the Ripper. This story follows seventeen-year-old Audrey Rose, the daughter of a Lord and a young lady fascinated with dissecting cadavers. She becomes completely wound up in the case that soon becomes known as the Jack the Ripper serial killings. Audrey Rose was everything I could ever want in a female lead! When I tell you that I squealed a little when I found out this was a serious, I literally squealed…OUT LOUD.
I do not have what I consider a "weak stomach"; however, there were moments in reading this story that I had to look away and jump a few paragraphs forward. The author does a great job with imagery and fine detail – almost too good. Some parts are very graphic and the descriptions WILL make you cringe, which is perfect for a Halloween read. The end became predictable about three-fourths of the way through the book, but the writing is so superb that I was still hooked and wanted to see how Audrey reacted when she found out who, in fact, Jack the Ripper actually was. I am so excited for more from this author and more in this series!